Anna's Spa & Wellness Centre
Laser Treatments for Pain Managment
Laser Treatments for Pain Managment
Laser Treatments for Pain Managment
We are glad to offer Laser treatments in Airdrie for managing chronic and acute pain.
Pain is a symptom of an injury. When you only treat the symptom you're ignoring the original cause of the pain. Laser Therapy treats the injury itself. It works in a curative manner by treating conditions at the cellular level. The pain goes away because the condition has improved or has been cured.
If you've been living with chronic pain from tendonitis, sciatica, a shoulder injury, arthritis, plantar fasciitis, tendon tears, bursitis, degenerative disc disease, whiplash, carpal tunnel syndrome, herniated disc, or TMJ syndrome, Laser Therapy can eliminate those sleepless nights and pain-filled days.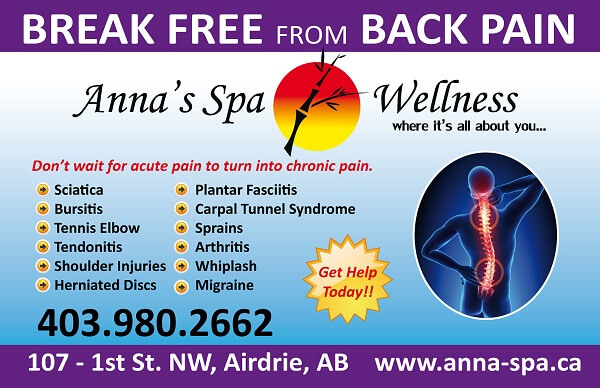 If you have a sports injury, sprain, or strain, Laser Therapy can help you return to your active lifestyle lot faster than waiting for the injury to heal on its own.
At Anna's Spa & Wellness we are committed to your health and well being. Patients see outstanding results due to our years of experience, state of the art Laser Therapy systems, and skilled therapists. Join the thousands of people who no longer live with pain thanks to Laser Therapy.