Facials
We have treatments available and products for Adult Acne , Teen acne, Rosacea , Dry , Sensitive and Aging Skin. For Facial appointment simply click here to get started
Discover your skin... get your skin analysis done!
Do you have oily patches or is it just poor circulation? Winter's dry skin or unseen sun damage? Discover the truth BEFORE wasting money on the ineffective products or services. Book an appointment today for a quick, painless peek to reveal which facial/skin care regiment is just right for you - and only you!
First session FREE !!! Follow ups to monitor progress and product effectiveness also no charge.
We carry Medical Grade and Natural marine based products . After analyzing your skin results, we will customize and offer you a wide variety of detoxifying and rejuvenating facials that will bring your face back to life.
* Add-On with Facials:
Eyebrow Threading/Waxing $9 | Upperlip Threading/Waxing $7 | Chin Threading/Waxing $5.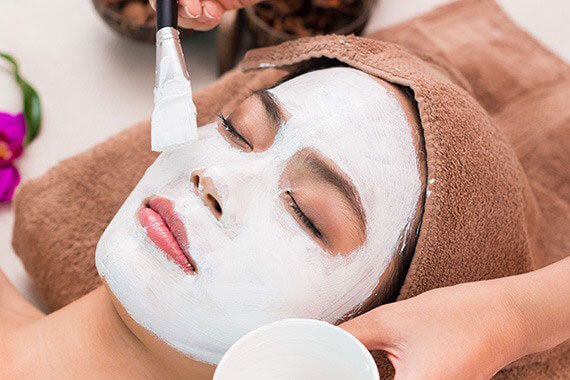 Skin Correction & Maintenance
$72
Each season brings some change to the skin. Simple exposure to the environment like sun, wind, pollution, air conditioning & mechanical heat affects the appearance and function of our skin. It is important to preserve the health and integrity of this protective layer. Our skin care therapists conduct a thorough skin analysis each time we see you for a facial. Each analysis allows us to focus on your concerns and any skin conditions which may be present. Our skin care tool box includes products to effectively help address:

Skin Sensitivities and Fragility
Couperose and Diffused Redness
Dehydration
Excessive Oil and Lack of Oil
Blackheads
Congestion and Detoxification
Sun Exposed Skin and Pigmentation
Dull and Fatigued Skin

Your Skin Care Therapist will design a facial treatment specific to your skin's needs maximum results.
Designed for U - Anti Aging
$89
Keeping the integrity of the skin is essential when working with anti-aging facial therapies. A thorough skin analysis will direct your skin care therapist of how to best tailor a combination of products to give your skin the biggest impact possible. Our skin care therapists take an innovative approach to help restore vibrant younger looking skin. A tool box of products with the latest technology and ingredients to promote:

Deeper Exfoliation
Reduced Wrinkle Depth
Botox-like Effects
Firmer Skin Tissue
Increased Compactness
Complexion Clarity
Restored Verve
Diminished Fine Lines
Strengthened Skin Structure
Lessened Skin Discolouration
Designed for U - Skin Texture
$99
Poor skin texture is a common problem among manyof us and shows itself in the form of rough skin or patches. These are characterized by a dry flaky skin on face, sagging skin, and in many cases shows the effects of sun damage, like dark spots on face.

We will discuss your desires and concerns, provide you with options, and tailor the best treatment to help reach your goals. We will also create an effortless homecare plan with products to specifically target your skin type.

Some common areas of concern are:

Sun Damage
Redness associated with Rosacea and Telangiectasia
Hypersensitivities
Dull, Devitalized Skin
Pigmentation and Pigmentation Spots
Aging Skin - fine lines and wrinkles
Excessive Oiliness
Breakouts
Microexfoliation / Microdermabrasion
The exfoliation process occurs when a diamond tipped head makes contact with the skin and abrades against it. Microdermbrasion Facial can help to renew your skin to give it a more youthful appearance, and if you opt for multiple treatment sessions then the benefits for your skin can be incredible.

Although even a single treatment of microdermabrasion will leave you noticing the difference immediately, for the best results you should consider multiple treatments. The benefits of ongoing treatment include

Clean Pores
New Skin Cell
Smoother Skin
Reduced Scarring

Full Face and Neck - $99

Back and Shoulder - $149
Teen Facial
$55

Must be between 13 to 17 years old with a parent or guardians written permission.

Uncover the importance of skin care at young age. Created with the teen's complexion needs in mind, it helps with persisting teen skincare troubles or prevent them before the problem Treatment begin with a deep cleansing, followed by gentle extractions. A healing mask will then help to rehydrate dry, flaky skin, or eliminate oily particles.