Airdrie Laser Hair Removal Clinic
Anna's Spa & Wellness - offering Laser Hair Removal in Airdrie & Area. Our technology is safe & FDA approved, in a unique way to deliver energy to a predetermined target. As an integrated solution, our laser treatment combines the benefits of all 3 wavelengths, achieving excellent results to any single-wavelength approach on its own.
How many treatments are required?
The number of treatments you may require for optimal long-term benefits depends on the area you wish to have treated, the hair density and your hair's growth cycle. Your hair grows in cycles and many factors influence its growth. Age, ethnicity, hormones, diet, medication and metabolism all play a part in your hair's location, thickness and resilience.*Indivdual result varies
Why Soprano Platinum for Laser Hair Removal
All Skin types, virtually painless, including Dark Skin with proven safety records
3 combined laser wavelengths (755 ALEX – 810 – 1064 YAG)
Thin or coarse hairs
SHR (Hair Removal Method) works by gradually heating the dermis to a temperature that effectively damages the hair follicles and prevents re-growth, while avoiding injury to the surrounding tissue.
The Most Advanced Solution for Laser Hair Removal now in Airdrie


Unwanted hair can be hard to maintain. Whether you end up plucking it, waxing it, or shaving it, it just keeps coming back. It is a never-ending cycle, which can frustrate many individuals. Thanks to technology, we now have the ability to rid our bodies of this unwanted hair for good with laser hair removal.
Here at Anna Spa & Wellness Centre, we are always searching for the latest innovation to save you time and provide the best results. That's why we're proud to say we are the first practice in the area to offer patients the Soprano Ice Platinum laser for hair removal. This is considered the most advanced solution available. It comes with the first 3-in-1 applicator to provide effective results for all colors and types of hair. Afraid your dark and coarse body hair won't respond to laser hair removal? Don't be, the Soprano Ice Platinum has you covered. No longer will the time of year affect when you can get a hair removal treatment either, as this is effective on even tanned skin. We also love the Soprano Ice Platinum for the speed of treatment. Your appointment time for treatment just got even shorter! This laser works for hair removal on any part of the body, including the ears, nostrils, and bikini line.
If you are considering laser hair removal, or are in the process of researching your options and have questions, contact Anna Spa & Wellness Center today to schedule a complimentary consultation appointment. During this time, you can undergo a skin evaluation and find out if you are a viable candidate for treatment.
3 simultaneous wavelengths in 1 applicator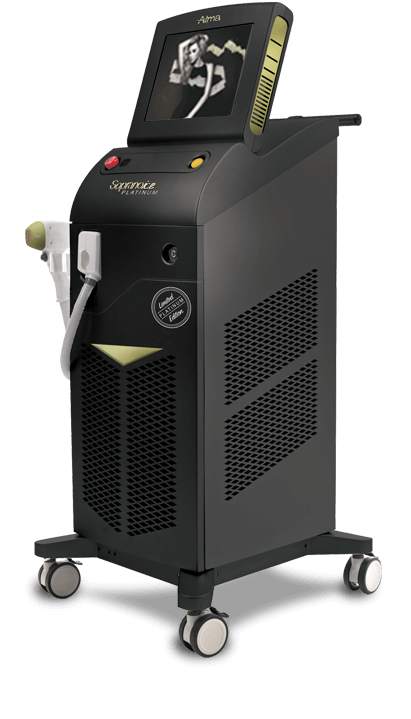 Innovative
3-in-1 applicator.


Virtually Painless
Most of our client feels treatment is virtually painless, delivering a massage-like sensation.


All Skin Tones and Hair Types
Effective results for light or dark skin as well as coarse of fine hair.


Proven Safety Record
Including for dark skin.


Speed
Treatment sessions are super-quick, even for large areas such as the legs or back.


No Down Time
You can return to your normal activities, including working out at the gym, immidiately.


Perfect for any area of the body
Including sensitive or hard to reach areas such as the ears, nostrills and bikini line.

Following are the Contraindications to having Laser Hair removal treatment:
Active Herpes Simplex Virus infection, Type 1 and 2. In an effort to prevent 'flair up' of this condition, treatment to the upper lip, chin, lower cheeks or bikini line should be avoided. The risk of complication may be reduced, if prescribed antiviral medication is taken prior to and after each treatment.
History of keloid scarring.
History of seizures triggered by light.
Pregnancy
Atypical moles or malignancy, pigmented lesions, tattoos (including permanent cosmetic tattoos) or vascular lesions in the treated area.
Use of photosensitizing medications (i.e. Retin A, Alpha Hydroxyl or Glycolic Acid), one week prior to treatment.
Patients taking Accutane must not have laser treatments of any kind and must wait 6 to 12 months after finishing therapy and consult their physician before being treated.
Additional Information:
Avoid tanning and using sunless tanners for at least 4 to 6weeks to prepare for laser hair removal.
Refrain from plucking or waxing for at least 2-4 weeks prior to the treatment.
Clean the skin at the treatment site and leave the area to be treated free of cosmetics, lotions , makeup & creams
Bleach should not be used prior to laser treatment.
Please call or email us to book a detailed complimentary consultation and a test patch - prior to your Laser Hair Removal appointment.