Cold Laser Pain Management Solutions
The technology utilizes superluminous and laser diodes to irradiate diseased or traumatized tissue with photons. These particles of energy are selectively absorbed by the cell membrane and intracellular molecules, resulting in the initiation of a cascade of complex physiological reactions, leading to the restoration of normal cell structure and function.
The process is curative and therefore results in the elimination of symptoms including pain. In addition, it enhances the body's immune system response and facilitates natural healing.
Conditions Treated
We are committed to your health and well being. Our Patients see outstanding results due to our years of experience, state of the art Laser Therapy systems, and skilled therapists. We can treat a wide variety of soft tissue conditions.
COLD LASER help in treating various conditions such as knee problem, arthritic pain, migraine, carpel tunnel , planter fascitis, back pain, rotator cuff and other conditions listed below: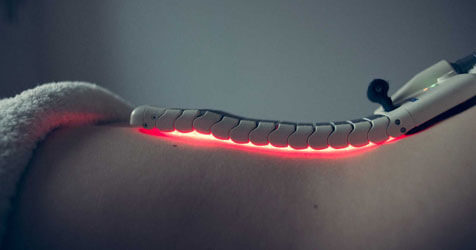 Soft Tissue & Sports Injuries
Ligament/tendon/muscle tears
Knee dysfunction (Meniscal/ligamentous tears)
Fractures
Repetitive Stress Injuries
Carpal Tunnel Syndrome
Rotator Cuff Injuries
Epicondylitis
Inflammatory Conditions
Tendonitis (supraspinatus/achilles etc.)
Plantar Fasciitis
Rheumatoid Arthritis
Back Problems
Degenerative Osteoarthritis
Spinal Stenosis/Sciatica
Disc Herniation
Myofascitis
Dermatological Conditions
Eczema
Psoriasis
Burns
Active Acne
Others
Temporo-mandibular Joint Dysfunction
Lymphedema
Gout
Fibromyalgia
Reflex Sympathetic Dystrophy
What our clients say about the treatment they received...
Post Concussion Treatment
Fantastic staff, great prices and personal service. Anna, thank you for being my angel with the LiteLaser Therapy. I had not made much progress in my recovery from a concussion last February. Within 6 treatments, I was able to return to work. Those treatments changed my life. Bless you, Anna
Post Knee Replacement Surgery
I had the pleasure of being treated by the amazing staff- after my knee replacement surgery. Prior to my surgery I suffered for 3 years from an injury and multiple surgeries. In Feb 2016 I had a complete knee replacement, 2 weeks post op I started inferred laser treatment 2-3 times a week, by the second treatment the swelling had decreased by 60% and off all pain medications, by the 3rd week, my scare was completely healed, soft and pliable. my physician and physiotherapist were amazed by the treatments. 3 months post op now and just had another follow up with my Ortho and my knee is smaller then ever expected from the amount of work completed in my knee and NO PAIN. I recommend Anna's Spa to everyone I know that has had an injury or pain to call and make an appointment for the inferred laser. I wish I knew about this 3 years ago. Thank you Kal, Anna and Julie and the team at Anna's Spa, I have my leg and my life back.